SANFORD HISTORICAL SOCIETY, INC.
Friends and Supporters of The Sanford Museum
The Sanford Museum is a division of the Recreation Department of the City of Sanford. The museum was established in 1957 as a memorial to the city's founder, Henry Shelton Sanford. The museum was expanded in 1974 and again in 1994 to allow for the collection and exhibition of items of local historical interest. Today the museum collects and exhibits historical material relating to the development of Sanford from it's earliest times to the present day.
The museums collections include a local history archive, a Sanford photograph collection, a reference library covering the history of Central Florida, the Henry Shelton Sanford Papers, a 19th century decorative arts collection, local business ephemera and a local sports collection.  
The Sanford Museum is located at 520 E. First Street in Fort Mellon Park.
The Sanford Historical Society, Inc., is a not for profit corporation and 501(c)(3) whose purpose is to foster interest in the history of Sanford and its environs. It supports the efforts of the Sanford Museum to accomplish these goals.
The Society meets at 4:45 p.m. on the fourth Thursday of alternate months beginning in January. The majority of the meetings are held at the Sanford Museum. Meetings include refreshments and a program on local history, which is presented at times by noted authors and local historians.
The Society provides volunteers for the Sanford Museum, sponsors oral history sessions, takes field trips to nearby places of historic interest and raises money for Museum projects.
Its publications include a bimonthly news letter and booklets on area history.
Social events include an annual city birthday party in September and a Holiday Reception in December.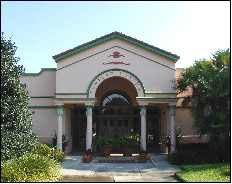 Thank you for your support of the Sanford Historical Society
Officers
President - Carole Hinshaw
Vice President - Andrew Fink
Secretary - Margaret Westmoreland
Membership Secretary - Jan Cara
Treasurer - Eddie Browder
Directors
Jane Parks
Sean McCann
Kaye Warner
Michelle McCann